Hundreds out for Edgewood's Annual Run For Recovery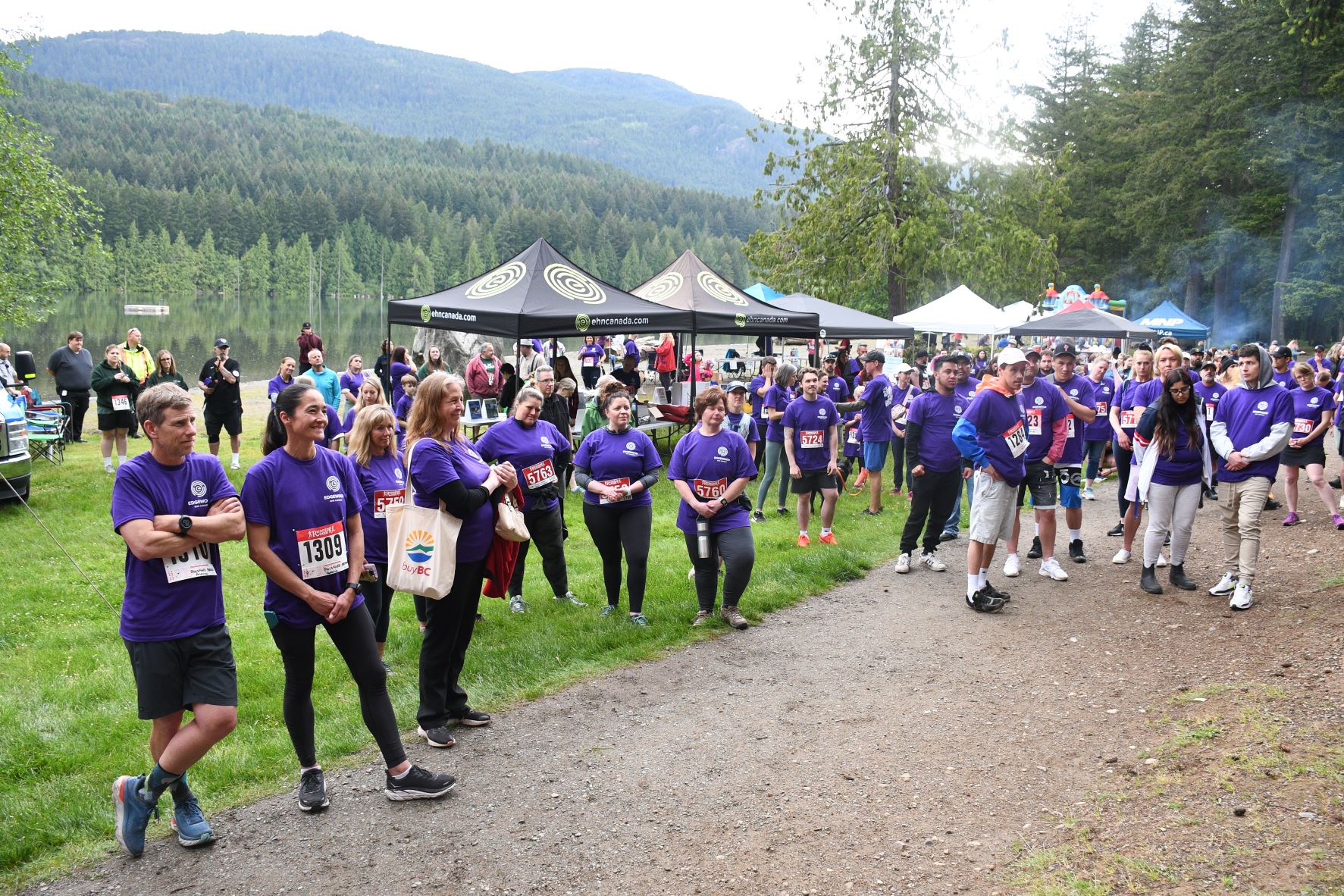 Nanaimo community rallies for the cause
By Jeff Vircoe
They dodged the storm, raised a bunch of cash, and ran like the wind.
After pandemic lockdowns, and being kept in their stalls for three years, central Vancouver Islanders who support awareness of mental health disorders and good quality, accessible treatment for those with substance use issues came out in droves for the 10th Run For Recovery in Nanaimo last month.
Hosted annually by Edgewood Treatment Centre with the support of sponsors, the June 10 run has become synonymous with recovery and the start of summer rather than a race. This year had much more energy of relief and joy over competitiveness in the 6K race.
Nearly 300 people – many of them neither walking nor running – hung around, supported, and soaked up the energy, helping raise approximately $10,000 for the New Start Foundation for Addiction and Mental Health.
A sizeable cloud dumped a fair bit of rain in the hours before the race, reminding those setting up of the fickle nature of island weather, but by the time participants began arriving, all that was left to show from the deluge was wet grass underfoot, and Westwood Lake a little more dilated.
Present on that lakeshore were walkers, runners, politicians, pets, and families – some with costumes on, faces painted, many of them clapping, whistling, cheering on others. Everyone present showing what a community who knows that recovery from addiction is possible looks like.
As usual, Edgewood provided a huge mobile kitchen and made sure everyone who was hungry had their choice of burger or chicken dogs to munch on as they wandered around perusing silent auction items including BC Lions game packages, whale watching expeditions, spa / resort getaways and golf excursions.
Over the years, the Run for Recovery has raised more than $170, 000 for various charities including the Canadian Mental Health Association, Island Crisis Care and the Haven Society. This year the funds raised go toward helping locals looking for safe treatment options access beds at Edgewood.
Because it has such a solid reputation for what it does for a good cause, the Run For Recovery attracts its share of attention from politicians who also know a lot about how addiction is affecting their communities.
BC's Minister of Mental Health and Addictions, the Hon. Sheila Malcolmson was present to thank the crowd and organizers for what they were doing, and so was Nanaimo's Mayor, Leonard Krog, who stepped to the microphone wearing a dashing three-piece suit.
With the next municipal election just four months away, Krog playfully explained with a wink, "As you can see, I have my running gear on."
In his brief comments in front of the crowd anxious for the starting horn, Krog saluted participants and the organizers for their choice to fight back against addiction.
"Edgewood supports the community … and clearly, by all of you coming out, the community supports Edgewood. Many families are impacted by addiction, and Edgewood's work and care is vital to restoring the health of those suffering with addiction, and their families," he said.
Jenn McLaren of Jumpstart Fitness warmed everyone up before Edgewood's own play-by-play counselor Timothy Von Boetticher counted down to the starting horn and kept the mood jovial as he welcomed runners and walkers as they made their way around the lake to the finish line.
Though there are always some who try to attain personal bests, the event was clearly more about the fun. For instance, prizes were given out for costumes, with Old Souls, (Edgewood's admissions department staff) nudging out Planting Cedes (the centre's "Cedars" clinical squad) for Best Team honours.
Kevin McKenzie, of Nanaimo, was first across the line, with a time of 27:11; Edgewood's own staffer Connor O'Reilly took second at 28:20.
In the end, it was a great reunion of folks who support raising awareness about how recovery is possible, of friends and families who are trying to end the stigma so many with mental health and substance use face in society. And it was a way to show one another that the battle against COVID-19 is being won.
Edgewood staff worked beyond their allotted hours providing logistical support. Alumni, extended care clients, and many off duty staff members came out to be part of the annual event, helping out and catching up with peers and many former employees, still connected to the centre and still celebrating the significance of the run.
Other community organizations not necessarily directly involved with addiction and mental health, but obviously supportive of the important work that addictions recovery treatment provides to our community, were a big part of the scene, too. Central Drugs and Coast Capital Credit Union stepped up with donations, (including $1,000 from CCCU alone) along with dozens of silent auction donors. Rambunctious toddlers and grateful parents made use of the benevolently provided Bouncy Castle.
Nanaimo's Running Room, talking up the run for months before it happens with their own circle of athletes, provides runners' bibs every year. The founder of The Running Room franchises, John Stanton, posted a poignant message on his Facebook page the day of the run.
"In distance running, you've got to learn to love the process and stick to the program!" Stanton wrote.
Ask most people in recovery and you will hear how trusting the process of getting healthy and sticking to the program are a big part of achieving and maintaining recovery success.
The community getting together has been sorely missed since the last Run For Recovery was held before the pandemic, in 2019.
Behind the scenes, Edgewood's own Bonnie Bartlett has been one of the key organizers for each of the 10 runs to date. To her, there are moments which always do her heart well, reminding her what it is all about, and the 2022 version was no different for its emotional rescue.
"For me, it is when that air horn blasts and the runners begin the race," said Bartlett. "There's just something really powerful watching the community come together and support this great cause. You can feel the energy and enthusiasm build at the warmup and it carries over to the starting line. I also love seeing families and community come together supporting individuals, teams, and families as they cross the finish line."
The community rallying for a cause is even more poignant as pandemic restrictions are being lifted, something the minister of Mental Health and Addictions noted.
"I am so thankful that events like this can happen again in our community – especially ones that raise awareness and break stigma associated with mental health and substance use challenges," said Malcolmson.
With the event coincidently happening on June 10, a day revered in the recovery community as the start of the 12 Step movement in Akron, Ohio in 1935, it turned into a meeting of people with a singleness of purpose: show that recovery is possible, and help others attain it.