The Three Ledgehill Amigos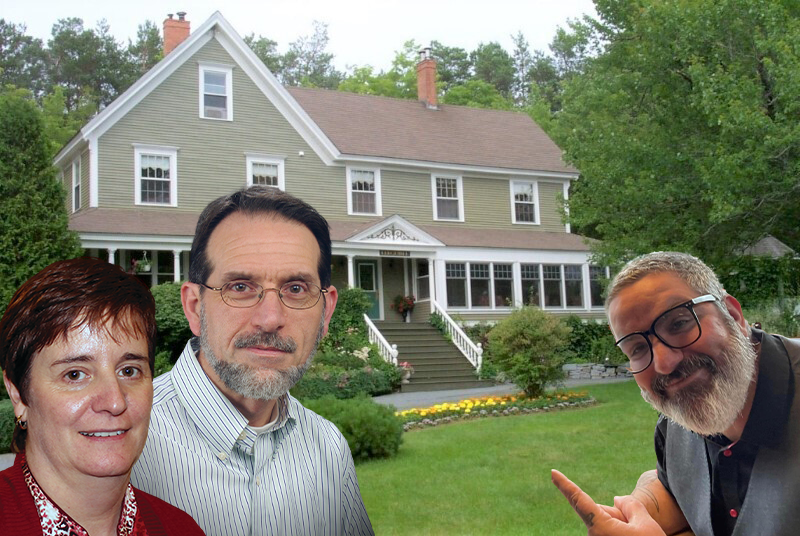 Great clinicians, great friends, great results

By Jeff Vircoe
Heard at a gathering of recovering addicts: "You can come out of the furnace of trouble two ways: if you let it consume you, you come out a cinder; but there is a kind of metal which refuses to be consumed and comes out a star."
If that is true, you could say Michael Hathaway, Bill Caldwell and Juanita Fleming are star struck.
For decades the trio have been trudging across the landscape above the 49th parallel, bringing structure to hope, and hope to substance users looking for help. From South Africa to Vancouver Island to the Maritimes – and countless points between – these three addictions specialists have helped treatment centres optimize their ability to treat people looking to solve their complicated illnesses and behaviours.
Hathaway is currently the Executive Director/General Manager of a trio of Nova Scotia facilities under the umbrella of the Edgewood Health Network, (EHN) Canada's largest network of inpatient and outpatient mental health and addiction treatment services.
In the historic and picturesque Annapolis Valley, Hathaway oversees teams at Ledgehill Treatment and Recovery Centres – two small gender specific facilities, as well as a concurrent Trauma and Addictions program. 
In 2021, when the Edgewood Health Network acquired Ledgehill, they knew just who to call to get the facility in sync with the other member properties in  the EHN family.
Hathaway, 61, has always had a pull to help others. Raised in a small community not far from London, Ontario, he began his career with an initial Bachelor of Musical Arts which led to teaching for 15 years. An internal calling led him to achieving his Master's of Theological Studies and near Kitchener, he started  helping aging populations, many with Alzheimer's, "to get ready."
"In their waning years, in the final season of their life, I was helping men and women tie up all the loose ends, work through their resentments and let go of stuff – because you are not staying here forever," he says with a laugh.
Broadening his scope to a younger demographic, Hathaway was hired as a chaplain at Edgewood Treatment Centre in Nanaimo, B.C. in the late 1990's and was subsequently immersed into a world entirely different than what he had previously dealt with. Addictions.
"When I started at Edgewood, I realized that rather than wait until they are 80 and get them ready for departure, what if we help these people in their 20s, 30s, 40s? They have another whole season that they can give back. They can make the changes. They can impact their children and their grandchildren, all that stuff. That is what really grabbed me."
His career path blossomed, and he began trying on many hats and positions.  Some he had trained and studied for, others he learned and adopted as he was mentored by colleagues. From clinical counseling and therapy to 12 Step facilitation; from cognitive and dialectical behavioral therapy modalities, to an ever-evolving myriad of process addiction and trauma therapies, Hathaway's learning curve was steep and ongoing.
He became Director of Extended Care, and then Director of Continuing Care. Through it all, Hathaway has touched the lives of hundreds of addicts and their family members over the years. When Bellwood and Edgewood merged in 2016 and EHN Canada was formed, he became one of the key people called upon to ensure the standards were kept high and consistent across the network. 
With EHN Canada delivering in and out-patient services across our nation, Hathaway has found himself shaping or refining treatment delivery services from Nanaimo to Prince George, Calgary to Regina, Winnipeg to Toronto. He a period he was acting clinical director in Toronto at EHN's other flagship campus, Bellwood. He became National Director of Continuing Care and served two years as General Manager at Clinique Nouveau Depart in Montreal.
Just over a year ago, when EHN asked him to help make the transition at Ledgehill, he agreed to go. He and his wife Debra expect Nova Scotia to be the final stop on a soulfully rewarding career in the field of addictions and mental health.
Hathaway explains how many of the changes needed to bring Ledgehill up to EHN standards have to do with the criteria suggested by the American Society of Addiction Medicine (ASAM). That society is seen industry wide as the gold standard for treating addiction. Hathaway said Ledgehill needed to get from a 2.5 level, extended care levels, to 3.5, which is more intensive for residential treatment centres.
"It is about getting the healthy living aspects reorganized and more structured," he says. 
It is complicated process that takes time – something EHN is willing to give to make the new Ledgehill a success. From staffing at all levels, entry to management, "it is everything, whether it is cooking, cleaning, clinical, support counselors – you have to overhaul everything," says Hathaway.
"Some companies, they just do a clean slate, everybody out, hire only new people. Well, you can't do that in a treatment centre. You are looking after people 24/7. So, you have to go through those months of change after change after change for the betterment, the better care, the better quality of care for the client."
Along the way Hathaway has not only come to know and help patients, but he has also become a revered mentor to many clinicians like Bill Caldwell of Chemainus, BC.
Caldwell entered the treatment industry in 2005 as a support staff in Edgewood's extended care program, under Hathaway.
Caldwell's Bachelor of Criminology and Psychology degree served him well as a clinician at centres from Edgewood in Nanaimo to Cedars at Cobble Hill, and he was part of an addictions centre start-up inside a hospital in Estevan, Sask. He has his own counseling and consulting services on Vancouver Island and is on his way to achieving his master's in psychology.
After nearly a decade working with Hathaway at Edgewood, Caldwell was the natural successor for the position of Director of Extended and Continuing Care upon Hathaway's departure.
Caldwell got the call last December from his old colleague Hathaway, now in Nova Scotia.
He says, "when Michael calls, you jump."
"I have always thought of Michael like my treatment dad. He is the guy. Any kind of skills that I have working with families I sort of absorbed from him, picking it up. He has an amazing clinical skill. A very gentle human being."
The admiration is obvious, and it goes both ways.
"Michael would let you do things and then, like, sit in with and be around you, and ask 'What did you hear, or think was happening here?' says Caldwell. " I would give an answer that I thought was deeply perceptive and then he would blow me out of the water with something really on point, like, well here is what actually was happening. The deeper metrics and workings of everything. I was always so impressed."
For his part, calling on an old friend like Caldwell to bring his mojo into the Maritimes was a no-brainer for Hathaway. He knew what he was getting.
"Because I was able to mentor him, I knew he would have similar mindset, and would understand the changes we were making," says Hathaway. "It is just knowing he has similar understanding and values regarding addiction treatment. He is brilliant with a specific group of people. He has a way to disarm them. To his credit, he gets through to them differently than I do."
High praise from a man who himself has a special gift for connecting with men and women in addiction recovery.
Another old friend at Ledgehill is Clinical Director Juanita Fleming. She is a long-time EHN employee, a former Edgewood inpatient and family program counselor, and an incredibly experienced clinician in the trenches of addiction medicine. A graduate of the Nelson Mandela Metropolitan University in her native country of South Africa, and armed with a master's degree in Counseling Psychology, Fleming has been a clinical manager at Cedars, a mental health therapist for the Fort McMurray Public School District, along with stops in the Fraser Health Authority as well as at St. Joseph's Addiction Recovery Centre in Estevan, Saskatchewan.
Between the three of them – Michael, Bill, and Juanita – they have over 60 years of helping people reclaim their lives to their credit. Hathaway is energized and always thrilled to see people turning their lives around. He has come to embrace the intimacy of the smaller centres at Ledgehill and takes pride in working with such determined humans.
"Addicts are just incredibly wonderfully gifted people, and recovery gives them a new lease on life.  I get to watch them just go for it," he says. Working with familiar colleagues like Caldwell and Fleming reminds Hathaway of many of the teams he has been part of, and he calls the work "sacred."
"It is an honour just to be part of a bigger team helping people achieve wellness and wholeness. I know I am just part of that," says Hathaway. "It is fulfilling. Very fulfilling."
Hathaway gives a big shout out to those teams and members across EHN Canada who go to work every day to save lives.
"At EHN, we are committed to excellence; we stay on the cutting-edge and we are evidence-based. We advocate for the individual. We want to continue providing access to as many people as we can reach, with good quality treatment for everyone that comes to us needing it."
For his part, Caldwell loved the weeks he spent helping at Ledgehill. He has nothing but great memories, minus the snow. He says he had a lobster dinner that "changed my life."
He fondly recalls one of  his first introductions to Ledgehill staff.
"I walked in the first day and it was kind of like,  'Go to Ledgehill, run a group'. I am curious, you know?  Like, who am I going to meet, what's going to go on? I walk in and meet the support counselor staff who is working, his name is Chris. I take off my coat and sit down and Chris says to me, 'You ride a motorcycle?' I said yeah, I ride a Harley.  It is a Heritage Soft Tail. He goes, 'You are all right by me. You drive Harleys, you got ink, we're good.'
"When you get there, and you meet the people, and the property is gorgeous. That whole part of the world is gorgeous probably; I saw it mostly covered in snow … but what I saw was gorgeous. The people are just wonderful, loving people. Staff and patients."