The Man In The Mirror. Counsellor Sergio's Story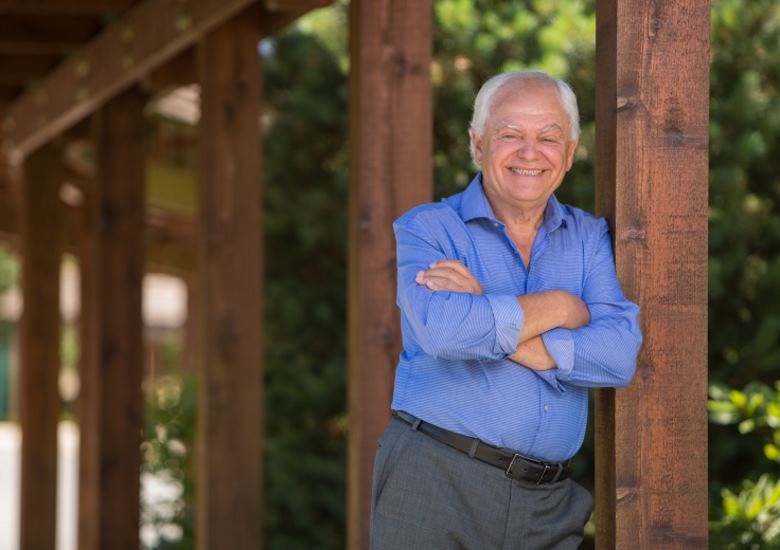 From his distinguished bearing, cherub face and piercing blue eyes, Sergio is the picture of health. But don't let his baby blues fool you. Once upon a time, Edgewood's favourite counsellor was a troubled man indeed. Born in Montreal, Sergio comes from a long line of alcoholics. Trauma touched his life at an early age when his father passed away. He can still remember his mother's screams and the many relatives visiting his home, wailing as they viewed his father's body. Sergio's father died from alcoholism. So did Sergio's grandfather.
As a child Sergio didn't know words like alcoholism, or addiction, he just knew that something was missing in him. Sergio describes the missing piece as a void he tried to fill with money, woman, material things, and drinking. But nothing worked, and the void remained. In Sergio's attempt to fill the emptiness he felt inside, he hurt a lot of people. He was ashamed of the man he saw in the mirror. Sergio grew sick and tired of the life he was living and sought help. 
Sergio admits sobriety hasn't always been easy. Luckily, he found a good sponsor and followed his suggestions. Sergio says he longed for connection but struggled with healthy relationships. Six years into his sobriety he met a woman and fell in love. Sergio and his new love moved from Montreal to Vancouver. He left his family and friends to start a new life away from everyone he knew. A few months into their relationship Sergio's partner told him she didn't love him anymore. Sergio says it was like someone put a knife in his heart. He felt betrayed, confused and lonely. He laid in bed and didn't want to get up. Sergio's sponsor called him and said 'God hasn't brought you this far so you can stay in bed.' With his sponsor's words ringing in his ears, Sergio dragged himself out of bed and went to a meeting. There he says he opened up, sharing his pain and his tears. During this time Sergio attended Vancouver College where he got his certification in addiction. He worked at a recovery house and loved helping the patients. Sergio says he made a life for himself by helping other people.
Every year Sergio went back to Montreal to visit his family. He called home frequently, and when he did, he felt guilty, like a naughty little boy. Sergio's sponsor told him he must detach from his family and the chaos and drama playing out there. 
The last time Sergio saw his mother she couldn't talk. She was in the hospital, dying. All his life Sergio's mother feared for him, but on this visit, she squeezed his hand. At that moment Sergio says his mother knew he would be okay. She felt proud of him and could let go. A few days later Sergio's mother passed away. 
Sergio says his mother played an essential role in his sobriety. In treatment, he wanted to leave many times, but he made a promise to his mother that he would stay. Instead of running away, Sergio completed treatment and dealt with the wreckage from his past.
Sergio says he's grateful to be alive and celebrating thirty years clean and sober. During this time he's been blessed to work with many people. Lately, though, Sergio felt as though something was missing. He called his sponsor and did some soul-searching. Sergio asks himself, 'what kind of man do I want to be? What are my values?' At 71 years of age, Sergio worried about the future, retirement, and money. He says he felt fearful and after thirty years of sobriety, the void was back.
Then Sergio got the scare of his life. He was diagnosed with type two diabetes which he dealt with by eating right and exercising. Sergio got blood tests every three months and saw his doctor regularly. Everything seemed to be going along fine when his doctor asked him to see a specialist for a stress test. That was in July of 2018. While Sergio was walking on the machine, the specialist saw something that concerned him. The specialist asked Sergio to make an appointment with his doctor and bring his life partner, who Sergio refers to as 'Sweetie.' 
The doctor told Sergio he needed an angiogram. Sergio didn't believe he was sick. Doctors mean well but Sergio knew his body better than anyone else. Sergio's Sweetie didn't agree with him though. She told Sergio he had nothing to lose by seeing the specialist. 
Sergio made the appointment and went through with the procedure. He was laying on the hospital bed when he got the shock of his life. The specialist told Sergio he had three blocked arteries to his heart. One artery was ninety percent blocked, and the other two were at seventy percent. Serio started praying. He couldn't believe he thought he knew better than the professionals. Sergio says denial is a powerful thing and the only reason he went to see the specialist was to appease his Sweetie. 
Not knowing what to do, Sergio was afraid. The doctor told him he needed surgery to place the stents. His Sweetie came into the recovery room to help him make the decision. Sergio called his sponsor, the man he'd trusted with his life for thirty years. Sergio's sponsor said he was a blessed man. Some people died from a stroke or heart attack without ever knowing they had blocked arteries. Two days later Sergio had the surgery. In the postoperative room, the doctor told him the procedure went well, and he was on the road to recovery. 
Sergio likes to tell people he's been in treatment for eighteen years, that's how long he's worked at Edgewood. He won't ask his patients to do anything he's not willing to do. Sergio says it doesn't matter how much time you have in recovery. You can have everything money can buy, but if you don't feel good about yourself, you have nothing.
As for his thirty years of sobriety, Sergio gives thanks to God, his sponsor, the fellowship of Alcoholics Anonymous and to Sweetie. He says the void is gone. Today Sergio looks in the mirror and likes the man he sees.
If you or someone you know needs help, please call one of the following confidential support lines for assistance. Our phone lines are open 24/7—so you can call us anytime.
1-866-926-4196 for Bellwood Health Services in Toronto, ON
1-866-946-9973 for Edgewood Treatment Centre in Nanaimo, BC
1-866-965-2914 for Clinique Nouveau Depart in Montreal, QC
(866) 627-8604 for Whiterock EHN Canada in Surrey, BC